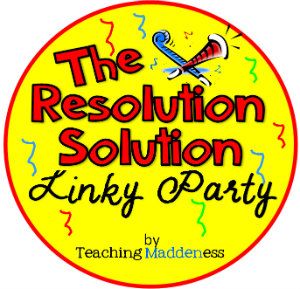 My first resolution was to implement parts of Daily 5/CAFE into my literacy teaching. So yeah, that's not going well. There are a few problems with this one. First of all, I only have fifty-five minutes for literacy, plus a half-hour following lunch. After taking attendance and lunch count and announcements and the pledge, we're already ten minutes in to the period. Our district wants us to use a basal, so that is what I primarily use. But the main reason is that this particular group of students has an incredibly hard time working/reading independently. When we're not doing whole-class activities, I spend most of my literacy time keeping students on task. I don't know what else to do. I've set class expectations, we've had a town meeting of sorts to discuss our frustrations, and
I currently have the whole class on a point sheet
. It just seems that no one wants to take responsibility for their behavior. So meeting in small groups while others are independently working just isn't a reality right now. Maybe some of you who have been through this with your class would have some pointers for me.
Now, my second resolution is going well. That one was to have a more organized classroom. Since I essentially started with a clean slate, it wasn't that hard to do. But I thought about going in during break to move my desk and some bookshelves, but that might have to wait for spring break.
My third resolution was to get to know my new coworkers better. Due to scheduling, there are teachers and staff who I see everyday, and some who I never see. Ever. So I think that I have been successful with those who I see often, and I still need opportunities to get to know those who I don't get to see.
Jen at
The Teacher's Cauldron
is also having a linky about resolutions. My blogging resolution is to write useful posts that might be helpful to others.
As far as personal goals, I need to drop another fifteen pounds and become better at keeping the house clean. (Which I could accomplish if it weren't for the efforts of my six and two-year-old!) So Amanda is asking us to ask how far she ran today when we comment on one of her posts. Maybe you could ask me what I cleaned today? Or what I avoided eating ;)
Oh, and I'm two(!) followers away from 100! I need to think about a giveaway. Any ideas?

Enjoy the rest of your break!